Admissions 2022 - 2023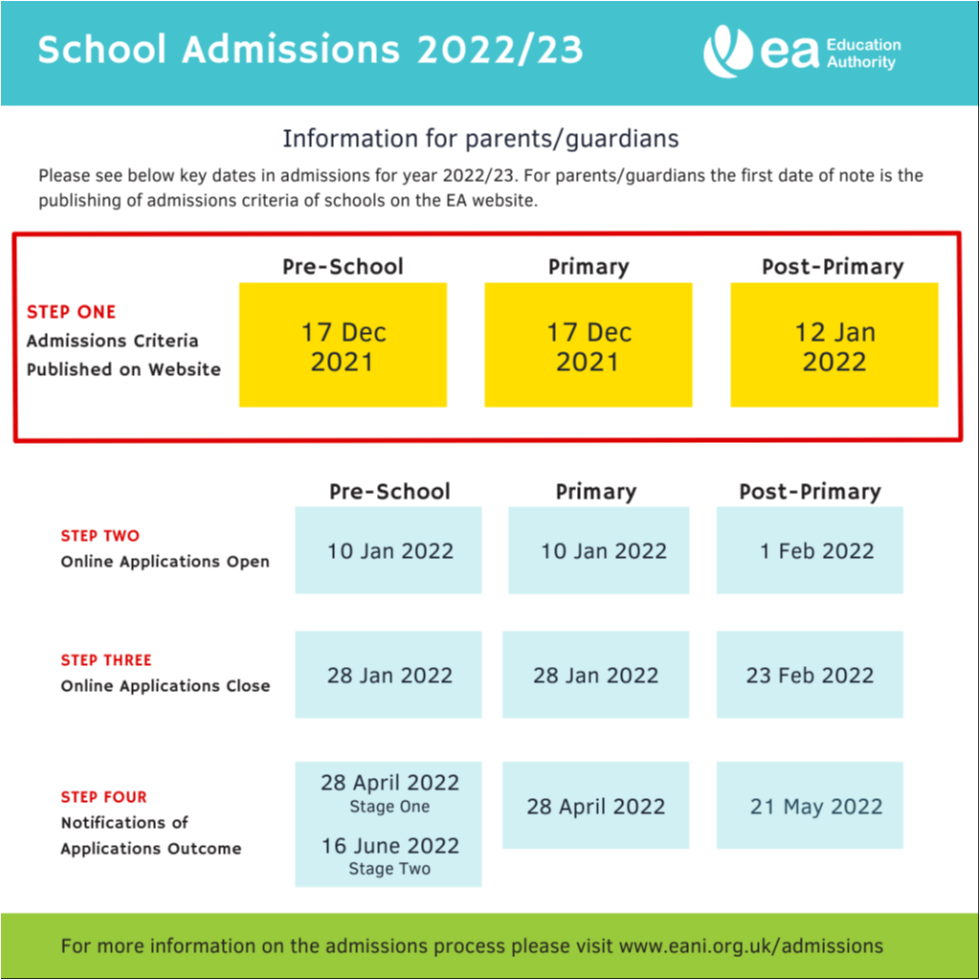 ADMISSIONS PORTAL OPENS ON 10TH JANUARY @ NOON VIA THE EDUCATION AUTHORITY AT THE FOLLOWING WEBSITE :
ADMISSIONS CLOSES 28TH JANUARY @ NOON
DUE TO COVID RESTRICTIONS WE ARE UNABLE TO HOST AN OPEN DAY, ACCESS OUR VIRTUAL TOUR ON OUR HOME PAGE.
School Starting Age Bill – Change in Legislation passed on 28th February in the NI Assembly
The EA is aware that the Northern Ireland Assembly passed legislation yesterday [28th February 2022) which allows parents/ guardians to defer the start of pre-school or primary one for their child for one year if they wish to do so.
This will be applicable to children born on or between 1st April and 1st July, as well as some children born prematurely whose due date was on or after 1st April but the birth of the child was on or between 1st December to 31st March.
With legislation only being passed on 28 February 2022, deferring was not an option prior to this date. Officers in the EA are working with the Department of Education to provide advice, guidance and put in place arrangements to allow parents/guardians to defer their child's place if they wish to do so for the forthcoming school year [September 2022].
Information will be available in due course on our website and social media channels in the coming days.
St Anthony's Nursery School, 43 Fairway, Larne, Co. Antrim BT40 2BG
Phone: (028) 2827 8645